Norwex vs. E-Cloth: Which Microfiber Cloth is Better?
This page may contain affiliate links. If you make a purchase through one of our affiliate links, we'll earn a commission, at no extra cost to you. For more details, please read our disclosure.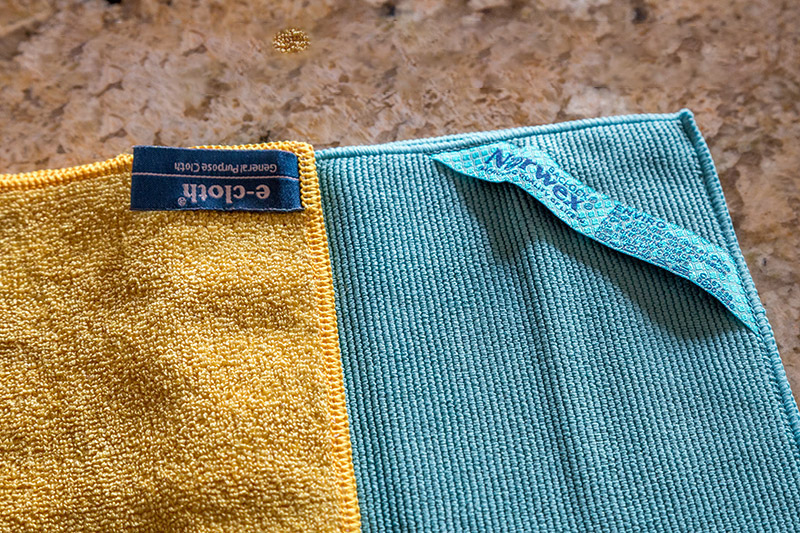 Norwex and E-Cloth are two of the top high-quality microfiber cleaning product brands. This type of microfiber has been developed so that when cleaning all you need is the microfiber cloth and water to remove dust, dirt, grime, germs, and bacteria! To learn more about cleaning with just water and these types of microfiber cloths check out our article: Cleaning with Water and Microfiber.
This article is dedicated to looking into some of the options regarding these high-quality microfiber products to provide an honest review on Norwex vs. E-Cloth microfiber cleaning cloths.
I started with the Norwex brand of microfiber, specifically the Norwex enviro cloths, but have also been adding E-Cloth products into my cleaning arsenal. I like and use both companies' products, but find that there are pros and cons to each. I want to share my experiences to help others who are interested in trying to find the best option for them.
Why Consider Using High-Quality Microfiber Cloths and Cleaning Products?
Both E-Cloth and Norwex note the fact that only a fraction of the chemicals used in traditional cleaning products have been tested, we really do not know what we are exposing ourselves and our families to on a regular basis. The Environmental Working Group states:
Government agencies and independent research institutions have not adequately evaluated the safety of numerous substances found in cleaning products. Although government scientific and regulatory agencies have focused considerable attention on chemicals suspected of causing cancer, they have devoted far fewer resources to evaluating substances that may be toxic to the brain and nervous system, the hormone system and other organs. Investigating the full range of risks of cleaning products to public health and the environment should be an urgent priority. Yet the problem remains largely hidden from the view of the American consumer.

Exposures to irritating or allergenic cleaning ingredients can affect people who live, work or study in buildings undergoing cleaning. Volatile fumes released during ordinary cleaning can contaminate the air for up to 20 minutes after use (Bello 2010).
Who Makes High-Quality Microfiber Cleaning Products?
In making the decision between Norwex vs. E-Cloth, we will look into each company in more detail as well as their top cleaning cloth product.
E-Cloth — perfect cleaning with just water
Our Top Pick
High-quality microfiber
Affordable
Clean with just water
Our favorite microfiber cloths for use around the home are the general purpose clothes from E-Cloth. Whether you're wiping down the kitchen table, countertops, or scrubbing just about any other surface in your house, these clothes are effective, durable, and affordable. Over the course of a year, you'll save a huge amount of money on paper towels and cleaning solutions, plus you can keep the chemicals out of your home.
E-Cloth started in 1995 in Europe and came to the USA in 2008. Their focus is on chemical-free cleaning, believing that chemicals used to kill bacteria on surfaces can be just as harmful as the bacteria. E-Cloth's mission statement is:
Our aim is to supply the most effective, healthiest and most environmentally friendly cleaning products available at a good value to the consumer.

Our single minded focus on high performance cleaning has created a range of products that clean entirely without chemicals, using just water.

In additional to exceptional cleaning, E-Cloth products provide significant cost and time savings and real health and environmental benefits versus ordinary cleaning.
E-Cloth operates like a traditional retail sales business, both online and in retail stores across the country. Many appliance brands recommend that their appliances be cleaned with E-Cloth to prevent damage from harsh chemicals to their surfaces.
Here is a short video from E-Cloth that gives a good overview of their all-purpose cleaning cloth and how the microfiber technology works.
Norwex — Improving Quality Of Life
Norwex Enviro Cloth Graphite
Norwex was started in 1994 in Norway as Eidsvoll Miljøprodukter that eventually opened a daughter company called Norwex Enviro Products, in 1999. The Norwex mission statement is:
Improving quality of life by radically reducing chemicals in our homes
Norwex also has a Product Promise:
Effective Solutions for Healthy Homes
Safe Solutions for Healthy Families
Sustainable Solutions for a Healthy World
Norwex tends to operate for the most part as a direct sales company, which means they rely on a network of consultants who promote and sell their products. The consultants would also offer a level of customer service to the customers who bought Norwex products from them. Norwex products are not offered in traditional retail stores so to purchase their product you would need to go through a consultant.
However, like most items, Norwex products can be found on Amazon. I love that you can save on the shipping costs since orders over $25 have free shipping at Amazon. And if you have a Prime membership most items ship for free without a minimum order. The prices might vary compared to ordering directly from a Norwex consultant with the Norwex company set prices.
Here is a video from Norwex that explains their Norwex microfiber cloths, which is called the EnviroCloth. It is a little long, about 4:30 minutes, but is a great overview of their product if you are interested in learning more.
Click here to see the different Norwex products that are available.
Click here to see the best-selling Norwex EnviroCloth options.
Comparison Chart on Norwex EnviroCloth vs. E-Cloth General Purpose Cleaning Cloth
Now that you know a little about each company I thought it would be good to put information regarding the top cleaning cloth for each company in an easy-to-read comparison chart.
Details

E-Cloth General Purpose Cleaning Cloth
Norwex EnviroCloth
Cost
$7.99
$18.99
Fabric Type
80% Polyester and 20% Polyamide
70% Polyester and 30% Polyamide
Fiber Size
1/200th of Human Hair
1/200th of Human Hair
Cloth Size
12.5″ x 12.5″
12.5″ x 12.5″
Manufactured In
South Korea
China
Antimicrobial Technology within the cloth for self-cleaning purposes
No

Yes, melted silver infused in fabric threads
Shipping Rates via Brand Website
*often better rates via Amazon
Free if the order is over $40 (otherwise $7.99), within the US except for Hawaii and Alaska
$6.95-48.75 depending on the order amount in the US
Guarantee
100% Satisfaction Guarantee, exchange, or refund
100% Satisfaction Guarantee. Replace, refund, or exchange within 60 days of purchase.
Warranty
3-year Guarantee
2 years, with normal wear and tear or 500 washings
Purchase
Buy E-Cloth here
Buy Norwex here
Does It Really Work?
Microfiber vs. E. coli
Here is a video from a News program testing the cleaning capabilities of the Norwex EnviroCloth compared to an all-purpose cleaner and generic microfiber to remove E. coli from a surface.
Microfiber vs. Raw Chicken
Here is a quick video on the raw chicken demonstration that is used to show how quickly and easily these types of cloths can pick up and trap the raw chicken protein. This specific video is for Norwex, however, there are videos available for E-Cloth as well.
You can get much more involved in this demonstration by comparing it to other cleaning options or by wiping a "dirty" chicken cloth on a clean surface to show that it does not cross-contaminate
This graph shows the size of protein particles compared to bacteria and some viruses. The ability of the high-quality microfiber to easily clean up the tiny protein particles gives confidence that larger particles such as bacteria and viruses are also easily being wiped away.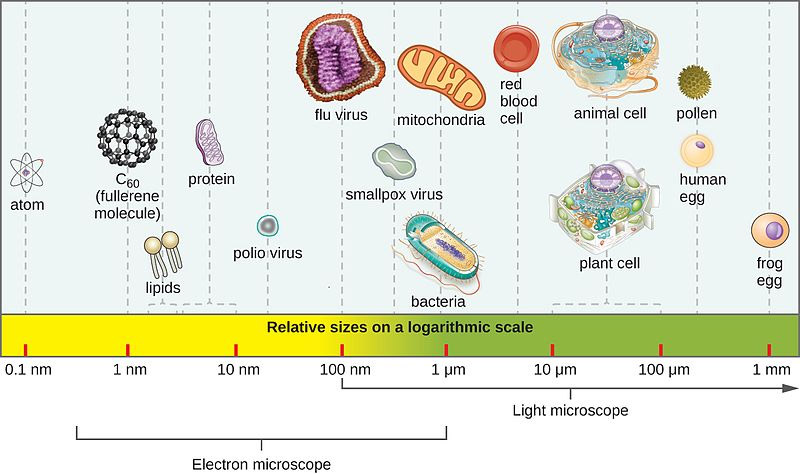 Norwex vs. E-Cloth: Which Microfiber Cloth is Better?
Both of these companies produce high-quality microfiber with slight differences in the material used and the way it is woven. Both companies create products that work to effectively clean your home as well, or even better, than traditional chemical cleaners. So really the question becomes: Norwex vs. E-Cloth, which is better for you, your budget, and your cleaning needs?
For General Cleaning
As I mentioned, I started with Norwex products and fell in love with them. They make cleaning more effective and faster. I was actually cleaning more than I intended because most cleaning jobs went faster and easier than I expected. And since I already had a cloth out I might as well wipe that smudge on the wall or clean some windows. But this is true for E-Cloth microfiber products as well.
Recently, I am finding that when it is time to clean I am reaching more and more frequently for my E-Cloth general purpose cleaning cloths (gasp!). It might be slightly smaller than the Norwex Envirocloth but it is thicker, absorbs more, and holds its shape better when I fold it to use. I find that this causes less fumbling with the cloth while cleaning. Also, with the pile, it seems to pick up larger crumbs better than the Norwex Envirocloth (they both do great with the tiny particles from smudges or grime).
When it comes to cost, E-Cloth wins hands down. With more affordable pricing AND the option for free shipping depending on what is spent, it makes E-Cloth products more attainable for most people. And at the end of the day, how much money do you really want to "invest" in your cleaning equipment? For me, I want something that not only will clean effectively but is better for me, my family, and the environment without breaking the bank.
Also, most people will have more than one microfiber cloth for cleaning. Some like to designate a cloth per room (or one for the kitchen and one for all the bathrooms), the various cloth colors are helpful for this. I have 4 of these types of cloths that I rotate through from both brands. If I used only the Norwex EnviroCloth it would have cost me $75.96 + shipping (yikes!) but if they were all E-Cloth that would be $31.96 at their regular cost per cloth + shipping or free depending on what I bought in one transaction (well less if I bought one of the bundles, example Multicolor 4 Pack for $19.99- this would be 4 E-Cloths for 1 Norwex EnviroCloth)!
I also love that E-Cloth has been lab-tested by Silliker and proven to remove 99.99% of E. coli, 99.95% of Listeria Monocytogens, and 99.37% of Aspergillus Niger (mold). This is the same, or better than paper towels and spray cleaner. I love when companies invest in proving their products work.
In addition, E-Cloth is Good Housekeeping Approved and recommended by Allergy UK. Their products have even been featured in The Wall Street Journal, Real Simple, The Today Show, The Sun, and The Guardian to name a few.
If I were starting over in this area of my wellness journey, I would have definitely gone with E-Cloth and its products. I would have been able to use so many more microfiber products for my cleaning needs with the amount of money I spent on Norwex products.
For Daily Cleaning
The only area that the Norwex EnviroCloth seems to have a leg up on the E-Cloth General Purpose Cleaning Cloth is with the BacLock technology, where silver is embedded within the fibers of the cloth, and it is a great feature to have. This silver is an antibacterial agent that kills off bacteria, mold, and mildew within the cloth as it hangs to dry. This prevents any type of smelly cloth issues that are often experienced with typical cloths, towels, and sponges. Please note, that not all Norwex products contain the BacLock technology.
I find that I tend to use the Norwex cloths and Norwex towels with the BacLock technology for my daily cleaning and hand drying needs. When I first started with Norwex, I would have an EnviroCloth hanging in my kitchen for wiping down the counters and tables 3-5 times a day (the reality of staying home all day with little ones). I liked that as it was hanging to dry it was preventing nasties from growing within the cloth.
The cloth did not entirely dry out between the uses in the day. But usually will dry out while hanging during the night. I have since switched to the Norwex Kitchen Cloth because it is more absorbent, has a higher/different pile that makes it easier to pick up crumbs, and is cheaper than the EnviroCloth.
Norwex Kitchen Cloth Trio
Some people do not see the BacLock feature as a benefit since it uses silver, a metal, in the cloth. They have concerns that over time the silver will break down and fall off the cloth into their home environment and cause some level of contamination due to the possibility that it will be ingested (for example if a child's toy is wiped with the cloth and bits of the silver remain on the toy and then the toy is placed in the child's mouth, or if there is a film of silver particles left behind on a counter where food prep is occurring). You can be the judge on this for what you feel comfortable using with your family.
I tend to wash my E-Cloth products and my Norwex products without BacLock more frequently than my Norwex products with BacLock.
Related: How to Wash a Microfiber Cloth
Which is Best For You?
If you are new to cleaning with water and high-quality microfiber, then start with an E-Cloth General Purpose cloth, you will not be disappointed. And your hard-earned dollars will be able to go so much further and you will be able to get so much more, yay!
If you work or tend to be outside the home most days, then the Norwex BacLock feature might not be worth the extra money for the cleaning cloths. As I mentioned above, I only feel that this really benefits me in the areas I am constantly cleaning throughout the day.
If you are the type of person to wipe down your bathroom on a daily basis and want to leave a cloth hanging in your bathroom (or potty training a boy, ugh!) then maybe the Norwex BacLock in their EnviroCloth would be worthwhile. But for the number of E-Cloths, you can get for the price of 1 Norwex EnviroCloth you could just use a new E-Cloth almost every day or as situations present themselves.
When deciding on which company to purchase from taking time to think through where you would be replacing sponges, paper towels, and other rags or cloths for your cleaning needs and how often you perform those cleaning tasks to determine if you think you would need the extra level of the Norwex BacLock technology.
Please note, that both cloths are designed to easily rinse away contaminates when you are finished using them and to dry out when hung by the labels. This alone prevents the smelly cloth and cross-contamination issues that many regular cotton cloths have.
Related: The Best Microfiber Cloths for Cleaning Your Home
Frequently Asked Questions
Is Norwex Microfiber?
Yes, Norwex is a company that produces high-quality microfiber products.
What's an E-Cloth?
An E-Cloth is usually the reference for the General Purpose Cleaning cloth that is made by the company E-Cloth.
How do you clean an E-Cloth? And how do you wash Norwex?
You rinse with warm water after using it for your day-to-day cleaning jobs. Then you wash in your washing machine without using bleach (damages the fibers) or fabric softener/dryer sheets (clogs the fibers and hinders performance). For more on how to care for your microfiber cleaning products check out How to Wash a Microfiber Cloth.
What are Norwex Antibac and BacLock?
It is an antibacterial agent (silver) within the microfibers that are used for self-cleaning purposes to avoid bacterial odors and mold/mildew growth.
How does E-Cloth work?
The E-Cloth is made up of microfibers (480,000 per cm2), when wet with water it works to absorb bacteria, dirt, grime, grease, and mold into the fiber voids. It traps what is picked up and then releases it when run under warm or hot water (or when put through the washing machine).
What is the microfiber cloth with silver?
The Norwex EnviroCloth and other related Norwex products.
Where to buy E-Cloth?
Click here to go to the E-Cloth website that offers all their products with free shipping in the continental US.
What are Norwex rags? 
Some people refer to cleaning cloths as rags so when if term Norwex rags are used they are just referring to the Norwex microfiber cleaning cloths.
Final Thoughts on Norwex vs. E-Cloth Microfiber
Cleaning with only water, without any type of cleaner, is not something most of us have been taught as we have grown up in the world we live in today. Thankfully there are companies that are pioneering a new and better way to clean without using traditional chemical cleaning products. Not only is using high-quality microfiber a safer alternative, but it is also quicker and saves money!
Now that you know more about each company and the pros and cons, you will be able to decide the best option in the Norwex vs. E-Cloth decision for you and your home!
If interested in finding out more about the products made by E-Cloth or where to buy click here. And for Norwex products to save money on shipping go here.